Miley Cyrus isn't the only young actress making a point of telling the world that she's all grown up.
She's just the only one who feels the need to do so by simulating a same-sex kiss with a back-up dancer.
Vanessa Hudgens, conversely, is giving interviews to magazines in which she talks about taking on more mature film roles (such as the daughter of a drug addict in next year's
Beastly
) and admits that she actually dislikes life in the spotlight.
Here are a few excerpts of such a discussion with the new issue of
Glamour
:
On pressure to be a role model
: When I am around kids and they come up to me, of course I am going to act a certain way, but at the end of the day, I'm doing this for myself. I'm going to be doing movies kids can't watch.
On attending public events
: I can't breathe, and I get claustrophobic. It's a very odd business. I do it because I love acting, but I don't know if I'll ever get used to it.
On bonding with boyfriend Zac Efron
: Right off the bat, we had a connection. I think everybody could see it. When we had our audition, they paired us together. And he was adorable.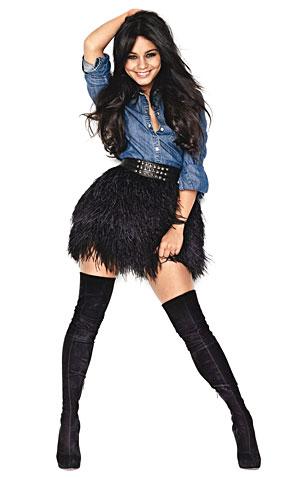 On her nude photos scandal: I think that it has made me stronger. But it still hurts. It sucks because [the photos were] supposed to be private, but at the same time a lot of actresses do it [in movies]. Eventually, I'm sure that I will. But I don't know if I would be able to do it now.
Has she grown up too fast? Maybe. And maybe that's the reason why I am silly at 21. But I don't regret it. And if I wasn't how I was when I was younger, I wouldn't be how I am today. You know? And I love the way I am today.
On her love of denim: A, it goes with anything. And, B, if your jeans hug you the right way, you feel like a sexpot. [Laughs.] And they get better with age! (thehollywoodgossip)