Having just been a part of scripted history in the climactic scene on Tuesday's series finale of The Hills, is Brody Jenner already planning a return to reality TV?
In Touch Weekly
reports that Brody, who's been on like 13 shows already, is actively pitching a new show for himself and Avril Lavigne - his real girlfriend.
That stuff with Kristin Cavallari was all fake.
According to insiders, Avril isn't down with the idea, so Brody has been "begging" her to consider it.
Supposedly, she's "so in love with him" she might agree.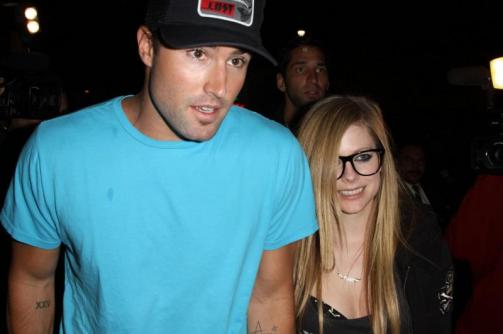 BEING BRAVRIL: Will Jenner and Lavigne get their own show? What would they call it, and would anyone watch it? [Photo: PacificCoastNewsOnline.com]
Maybe that's why he got that tattoo. Now she has to do it, right? Look at the strength of commitment he showed to their relationship ... reciprocate, already!
Basically, it sounds she doesn't want to say no - but she REALLY doesn't want to do it either. Bet you she caves, though. The women of Hollywood usually do.
Can you blame them? It's Brody Jenner.