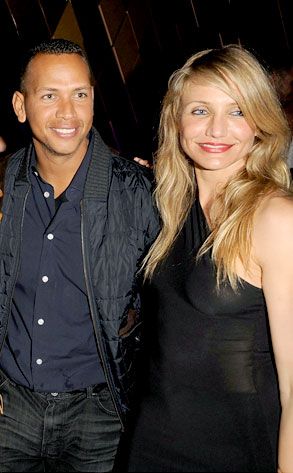 George Pimentel/Getty Images
Although we've known
Cameron Diaz
and Yankees star
Alex Rodriguez
have been getting cozy since the Super Bowl, the two continued to downplay their relationship in NYC this weekend.
The couple went out of their way to enter a teammate's birthday bash at the 40/40 club separately after arriving in the same vehicle.
"A-Rod arrived and went through the front door and about 20 minutes later, Cameron arrived and entered through the side door," a source tells E!. "We found out later that the same driver dropped them off."
Once inside the star-studded soiree, they continued to play coy...
"They were very very strategic about not being near each other or talking to each other, but they were within each other's eyesight the whole night," the source says.
Can you blame Cam for wanting to keep an eye on A-Rod after the stories we've heard about him?
Cam kept busy hanging out with
Beyoncé
and
Jay-Z
, who owns the club and gifted all partygoers with Yankees-engraved Skullcandy Roc Nation Aviator headphones. When the party was dying out, once again, Alex and Cameron made a point to leave through separate entrances.
But a little bird tells us they quickly reunited at a helipad, where they departed in a chopper together. Why are these two still sneaking around? We're onto you guys already, so feel free to engage in some dirty dancing and PDA, like you did in South Beach. (eonline.com)