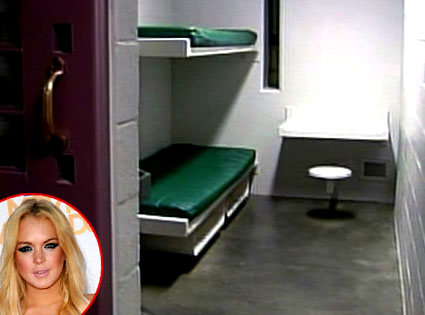 Jason Merritt/Getty Images
eonline.com - Lindsay Lohan
is going to do the time—even though she remains in denial.
"She's really nervous," a source close to the actress tells E! News. "She is still hoping she is not going to jail." Meanwhile, back in reality...
Lindsay is due to surrender herself tomorrow to begin serving her 90-day sentence, which will likely be shortened drastically due to overcrowding (25 percent of the original sentence is about as much as gets served these days).
After appearing in court, she will likely be shuttled to the Century Regional Detention Facility in Lynwood, Calif. And here's what you need to know about Lindsay's new digs:
It Has Celebrity Cachet.
Does the name
Paris Hilton
ring a bell? Her in-and-out 2007 jail stint began and ended in Lynwood when she decided to accept responsibility and served 23 days for violating her probation on a reckless driving charge. In 2008,
Khloé Kardashian Odom
served four hours and 37 minutes for violating a DUI charge, during which time she was placed under solitary confinement and the jail received three bomb threats.
Nicole Richie
served a scandalous 82 minutes for her 2007 drug-enabled wrong-way DUI.
Pretty Wild
reality starlet (and convicted robber-to-the-stars)
Alexis Neiers
is currently in lockup there, which, barring her immediate release, could make for some awkward meetings in the common area. LiLo herself is familiar with the environs; former inmate No. 1059383 served out a whopping 84 minutes at the facility back in 2007 stemming from (guess what?) her DUI arrests.
It'll Ruin Her Diet of Kombucha and Cigarettes.
LiLo won't be getting any special treatment, so she'll have to follow the rules as they stand:
Dina
,
Ali
and
Samantha Ronson
(but not
Michael
) can pop in to say hi anytime during the facility's visiting hours, 8:30 a.m. to 7:30 p.m. on weekends (weekdays are for lawyers and professional visits only). Seven ministries have a presence in the jail and there are daily meetings for Alcoholics and Narcotics Anonymous. On-site officials must approve any prescriptons. Lynwood is a no-smoking facility. Care packages are also accepted, provided they don't include money, food, cosmetics (no more fun with nail polish, then) or weapons. Also off-limits? String bracelets. So you can cross Kabbalah off the office pool of religions she may find in the slammer.
Michelle Rodriguez Is Not Impressed.
The erstwhile
Lost
ie and recognized Hollywood badass was locked up (uh, for less than a day) back in 2007 and while she served out her pittance at Twin Towers, not Lynwood, she doesn't exactly rate LiLo's digs in terms of hard-coreness. Which, we're guessing, is just fine by Lindsay. "You know what, they opened [Lynwood] up because the majority of people with misdemeanors were getting locked up with real criminals," she told the Awful Truth at the time. "And the problem was the overcrowding in the jail. Not that I was lucky, but my case was just a statistical problem, and now they've solved that. They opened up a jail for misdemeanors, and that's what you're talking about." In other words, LiLo is bound for Camp Cupcake.
It's Girl-on-Girl.
The Century Regional Detention Facility, which currently houses about 1,800 inmates, is an all-female jail. Paris found solace in that fact, gushing after her stint that the inmates were "very supportive" and that she often talked to her fellow inmates through the vents of her cell. Lindsay will be assigned to a 12-foot-by-8-foot cell featuring two bunks (with 4-inch green vinyl foam mattresses), a toilet, sink, stool, tabletop and 6-inch window after getting photographed, fingerprinted and searched. Los Angeles County Sheriff's Department spokesman Steve Whitmore said earlier this month that LiLo would likely be separated from the general population "for her protection as well as the jail staff."