We swear we're not making this up.
In what would likely rival
Real Housewives
star LuAnn de Lesseps for worst musical offering of the year, Kate Gosselin is looking to add singer to her resume!
The reality star is reportedly itching to deliver a Christmas album chock full of religious-y tunes - with her eight adorable kids on backing vocals no less.
"Kate is pitching a CD of holiday songs sung by herself and her kids," a record exec says. "She sees herself as a modern day Maria from
The Sound of Music
."
LOL. Wasn't Maria really nice, though?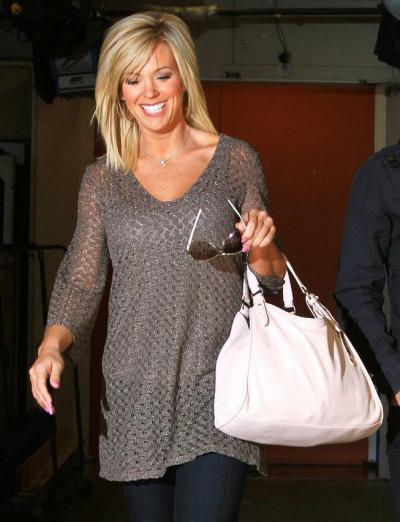 EARS WILL BLEED: Kate Gosselin wants to break into the music biz. Wonder what the kids' psychiatrist will say about that. [Photo: PacificCoastNewsOnline.com]
"Don't be fooled," a friend of Kate's adds. "Kate sees herself as a brand. She knows her 15 minutes are not going to last forever and wants to make the most of it."
"After all, it's Kate that's putting the food on the table for all those children."
Nice dig at Jon Gosselin there, friend.
Reality TV star twice over, View guest host, author, dancer, mother of eight and now singer? Where does she find the time ... to get that bad Botox?
Shockingly, Kate has yet to score a coveted record deal, but we wouldn't bet against her. As long as her singing's better than her dancing, that is.