You know I love you, I try to stick it to you whenever I can.
- Scott Disick
Not even Fourth of July Weekend could slow down the writers of
Kourtney and Khloe Take Miami
. They penned such winning lines as the one uttered above and came up with a new episode of this E! reality show last night. We forced an intern to watch and she filed the following report...
It's honestly hard to get through
KKTM
these days without Khloe speaking like a 4 year old. It's really effing killing me, which makes it harder to write this review, but here goes.
Scott and Kourtney are a bipolar couple. The polo event they went to was so staged it was ridiculous.
Congrats, producers, for coming up with new locations and storylines to paint the exact story you want. So Kourtney flirts with a hot polo player and Scott doesn't even care. As she laments to Khloe that it felt sexual to be on the horse with a polo hottie, Scott is in the backseat with the baby deciding aloud that he's "really in the mood for a taco."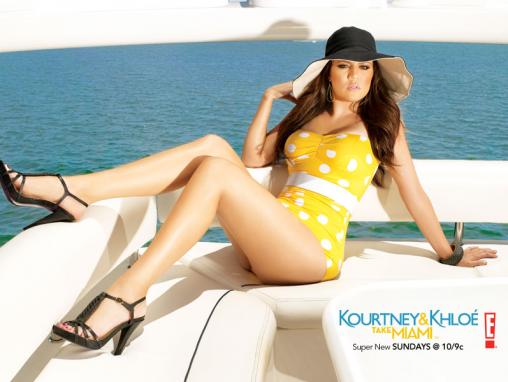 The Kardashians are such pros at working the camera and Scott has picked up the tricks of the trade pretty quickly. He knows it makes for better television if he resists Kourtney's taunting and forces her to take her game to the next level.
This brings us to Kourtney staging a lesbionic reunion with season one fling Jackie. Scott smells BS the second he walks in the door and upstages her. I truly was laughing when he came outside in his robe and suggested a threesome. He's fully bucko, swinging his dong at these ladies, with his microphone cord visibly hanging behind him.
Scott's crazy, but he's definitely amusing. Kourtney calls him a sicko, Jackie leaves, and Scott tells her that he always wants to get down with her, there's no need to play these games.
She prances around their mansion in her lingerie and animal print clothing talking like a baby. Oh, the honeymoon stage. Sigh. However, while Khloe wants romance, Lamar just wants some bromance. Rob (possibly my favorite Kardashian) has moved in with Khloe instead of living with his rents at age 23.
I will sincerely say it's very sweet how Lamar and Rob have bonded. As the youngest sibling in a large family, it is often difficult to integrate your significant other and your siblings. But I digress: Khloe wants to get down with her hubby and the NBA is ruining it.
One of my favorite things about this whacky family is how open they are; But SERIOUSLY, c'mon Khloe and Lamar, you guys are in the tub, that's beyond private time. You're not helping fight the media whore rumors when you bring your intimate moments to TV. I mean, I hope his kids don't watch this.
Lastly, Khloe is getting paranoid. I guess it's not easy being the wife of a Lakers star. I wouldn't want a strange ho in my bedroom when I got home, but it seems that she's more on guard than usual. Nervous about the girl trying to sell stories to the paparazzi and take pics in their bed? Seems kinda extreme, but then again I'm not famous and I wouldn't know.
Just another week in
100% scripted
reality television. (thehollywoodgossip)