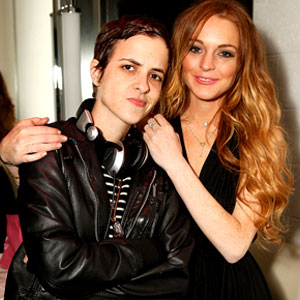 Nothing like a court-ordered stint in jail and rehab to mend the wounds of a bitter breakup.
Lindsay Lohan
continued her countdown to custody Friday night by once again laying low and sticking around her Los Angeles pad. Only this time it wasn't
Kim Kardashian
keeping the 24-year-old company, but rather a surprising face: Lindsay's ex-girlfriend
Samantha Ronson
.
And by all accounts (or at the very least
our
records), these two aren't exactly the best of friends...
Looks like the onetime volatile lovebirds have buried the hatchet, at least for now.
Spending a majority of her evening at Lohan's, the DJ made her entrance and exit in typical SamRo style: by giving the paparazzo the finger, of course.
Ronson also took to Twitter to defend Linds, taking on comedienne
Joan Rivers
, of all people. "Hey Joan Rivers- you have collagen older than Lindsay," she wrote Friday night. "Pick on someone your own age, oh wait, I guess people that old can't hear. #bully"
To which the embattled star replied: "thank you. ;)"
E! News has learned that actor
Lane Garrison
has been providing ample moral support to Team Lohan over the past few days, as well. The onetime
Prison Break
star spent time behind bars for vehicular manslaughter after a 2007 drunk driving car accident that left a teenager dead.
"He has known her for a while and yes, he spent the last few nights with her and talking her through everything," a source close to Garrison reveals.
For those just tuning in, Lohan was sentenced to 90 days in jail Tuesday stemming probation violations surrounding her 2007 DUI and drug case. Additionally, the actress is expected to complete a 90-day inpatient substance abuse program following her release.
—Additional reporting by Christopher Hall (eonline.com)