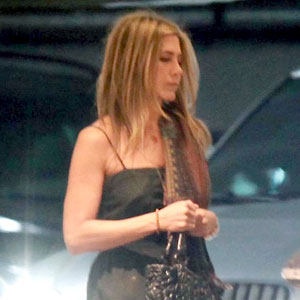 Flynet
It sounds like
Jennifer Aniston
's promotional trip abroad couldn't have come at a better time.
The erstwhile Friend has obtained a restraining order against a 24-year-old Pennsylvania man who was found sneaking with "a sharp object, a bag, a roll of duct tape and written messages," some of which had been carved into the hood and doors of his car, declaring his fanatical love for the star.
View the order.
Is it any wonder he's currently on a 5150 psychiatric hold?
And while there's no debate over how scary the situation is, it seems to be less certain exactly how Jason Peyton was caught.
According to the actress' complaint, cops nabbed him last Thursday while traipsing around the grounds of Casa Aniston—or, as officials put it, while "laying in wait in a location he believes she frequents."
However, the star's rep told Gossip Cop that Peyton was nowhere near Aniston's abode and that the order was a preemptive strike to "protect her should he try to go to her home or anywhere she might be."
Whatever the particulars, Peyton spent eight days seeking out Aniston and prior to driving cross-country for his frightening mission, the man left a note for his father stating he was heading off to California. Reading between the lines, his father knew a potentially dangerous meeting with Aniston was in his son's sights and he tipped off police.
"Peyton is an obsessed, mentally ill and delusional stalker—with a history of violence and criminal stalking—who drove cross-country in his delusional 'mission' to locate and marry [Aniston], with whom he believes he is in a relationship," the documents read.
Included in Aniston's filing was a declaration from LAPD Det. John Gregozek, who recalled Peyton telling him, "Jennifer communicated to me mentally that she wants me to come and marry her, and wants me to be the father of her children."
According to the restraining order, he must now stay 100 yards away from Aniston's places of homes or business, as well as those of her managers, agents and various handlers. The LAPD's Threat Management Unit has since taken over the case.
Per the filing, Peyton has been arrested on stalking-related charges in the past and has been institutionalized before, as well as required to receive monthly injections of an antipsychotic drug. He stopped showing up for his injections in March, authorities said.
Peyton also, incidentally, seems to have a thing for celebrities. According to TMZ, he believes he's related to everyone from
Oprah Winfrey
to
Jay-Z
to
Bill Gates
to
George
's
W.
and
H.W. Bush
to
Courteney Cox
.
With friends like that...you definitely need restraining orders.
A hearing is scheduled for Aug. 9. (eonline.com)