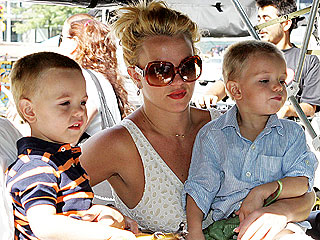 Claims from Britney Spears's former bodyguard that the pop star allegedly hit her two sons with a belt are false, sources tell PEOPLE.
"Britney is quite the opposite – she doesn't discipline them enough and she will do anything to keep the boys happy," says one source close to Spears. "There are issues with Britney, but her abusing the boys are not one of them."
Fernando Flores told a British tabloid that he had witnessed Spears, 28, hitting her children, Preston, 4, and Jayden, 3, in March or April 2009, but another source tells PEOPLE the allegations are untrue.
"It's ridiculous what the guy is claiming. It never happened," says the source.
The Los Angeles Department of Children and Family Services sent social workers to the singer's home, according to RadarOnline, but the visit was routine since California law requires a welfare check anytime a report is made to child protective services.
"Everything is fine," says the second source. "Britney has done nothing but be a great mom to her kids."
Spears's rep did not return requests comment.
•
Reporting by PERNILLA CEDENHEIM and JENNIFER GARCIA