Looking to move on following her emotional breakup and volatile reunion with ex-fiance Jake Pavelka, Vienna Girardi has been hitting the L.A. party scene.
Hard.
Unfortunately, she's kind of unstable. "She doesn't like being alone," a witness said. "All her friends keep telling her how much better she's looking without [Jake]."
Wait ... Vienna has friends?
Later, at Syndicate Hospitality's MyStudio nightclub, Girardi ran into Gregory Michael, the
Greek
star who "definitely made out" with the engaged reality star.
That's when the trouble began.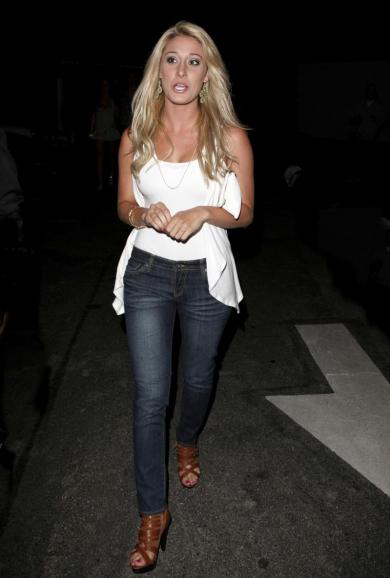 Vienna covered up for a change. [Photo: PacificCoastNewsOnline.com]
"She stalked him!" another source says. Observing the actor (gasp) talking to another girl, Vienna "started crying. She freaked out. The entire club saw."
Michael bolted. "He couldn't deal with her behavior. He was trying to remain friends with her and be cordial but this just pushed him over the edge."
Yet Girardi kept at it and was all-smiles at a
Playboy
event at bar210. At that shindig, a witness reports Girardi "was drunk and all over the place."
How drunk?
"She was opening her shirt and showing her bra and hanging on every guy." Says one club observer: "I'm embarrassed for her!"
Join the club.
Hopefully she sent some drunk emails to Lee Smith after. (thehollywoodgossip)