Jake Pavelka who?
She claims all she wanted to do was move home to Florida and get out of the spotlight, but a newly-single Vienna Girardi hit the town Saturday in Hollywood.
"I"m moving on with my life and I'm not looking back," a smiling Vienna told
Radar Online
at the Carrera Sunglasses Escape event at the Chateau Marmont.
With a positive attitude and without that stiff she used to be engaged to, she said "I'm really excited about just living on my own and being happy again."
Surrounded by friends, as well as some other celebrities like Nicole Richie, Vienna Girardi certainly looked pretty in a white tank top and skinny black jeans.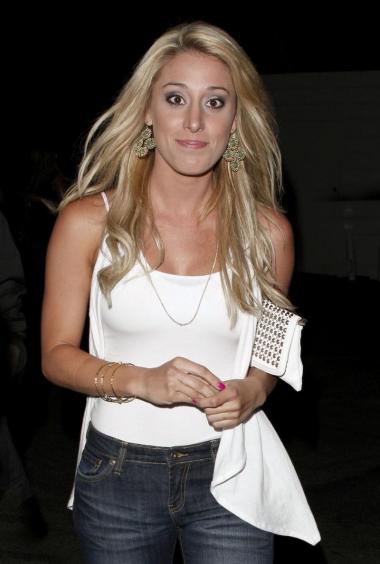 CLEAR FOR TAKEOFF: Vienna left that prude Jake at baggage claim and is getting on with her life. Probably for the best. [Photo: PacificCoastNewsOnline.com]
"It's great to be out with my girlfriends hanging out. We all have so much fun," said the
airheaded
bubbly 23-year-old. "I'm happy to have my smile back."
The sadness seen during the tear-filled interview on The Bachelorette last week? Long gone. "It's been a long time and I'm really ready to live my life again."
No word if her sex emails to Lee Smith have led to a reconciliation, but she's landed a marketing job at Biolustre and is enthusiastic about the opportunity.
"It's fantastic, I'm really enjoying everything I get to do," she says ... and certainly couldn't have said the same during her engagement to Jake.
ZING!
(thehollywoodgossip)