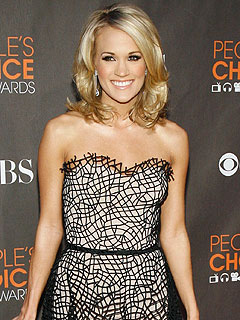 Danny Moloshok/Reuters/Landov
people -
Carrie Underwood hit Sin City to celebrate her dwindling single days – but there was no sinning for the engaged country singer.
Underwood, 27, and a group of girlfriends took over a VIP table on the LAVO stage for a bachelorette party on Friday. The singer donned a "Bride-to-Be" sash, and the group wore feather boas from LAVO's bachelorette goody bag while dancing the night away.
"They goofed around," says an onlooker. "[Carrie] did 'the running man.' "
Another source says Underwood, who is engaged to Ottawa Senators hockey star Mike Fisher, was "very chill."
While Underwood was living it up in Vegas, her fiancé had a boy's night out in Nashville. Fisher and four buddies spent a a low-key night having dinner and drinks at Cabana, a favorite spot of Taylor Swift's.
Fisher celebrated his bachelor party last week in Miami at Mansion with about 15 male friends.
"The guys downed shots of Belvedere and danced on their table as King of Crunk, rapper Lil Jon deejayed," a source told PEOPLE at the time. "Fisher was the most subdued of the group, sitting back and admiring the madness as he nursed one cocktail through much the night."
Ever since she got engaged, Underwood has been fairly relaxed about her upcoming nuptials. "We'll just show up," the country star told PEOPLE at the CMT Music Awards earlier this month. "It's mainly about family and friends and the two of us. So it's going to be good no matter what."
•
Reporting by MARK GRAY, KAY WEST and LINDA MARX