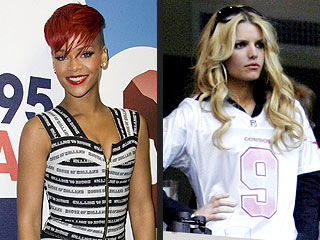 JP/AAD/Star Max; LM Otero/AP
It could have been a big day for Matt Kemp. His Dodger team was at home in Los Angeles on Sunday playing the Yankees on national television.
But when the starting lineup was announced, Kemp was on the bench.
The star outfielder is in a serious slump, hitting only .196 in the month of June with just one home run in the last 22 games. He's been screwing up while running the bases and stumbling defensively.
His game has gone cold even as his love life has heated up with girlfriend Rihanna. They've frequently been spotted together – she's been to some of his games – and they had a cozy dinner as recently as Saturday, the day before he sat out of the Yankees game.
Is it a rerun of the plight faced by Dallas Cowboys quarterback Tony Romo, whose game suffered while he dated Jessica Simpson? (people)
Probably too early to tell. Kemp, 25, was doing just fine earlier in the season while with Rihanna, 22, and his coach thinks he may just be tired.
"He's played pretty much every day and faced some good pitching," Dodger Manager Joe Torre tells the
Los Angeles Times
. "We really haven't given him a rest that often, so he's never had a chance to really regroup."