Country music legend is admittedly biased, but she has a message for critics of Miley Cyrus:
Give the girl a break!
In an interview with Fox News, Parton is asked about the rebukes of Miley's new image these days and says: "I've known her since she was a baby." She then takes the same stance on digs directed at Cyrus as Miley herself takes on pants:
"I hate it when people criticize her," Dolly says.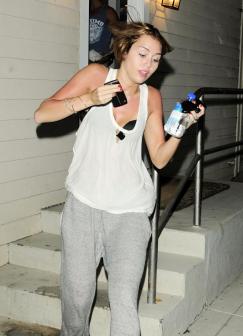 Parton continues to praise her "honorary goddaughter," adding: "She is a great singer; she has a great voice. She's a great little entertainer and she can speak to you like she is 50 years old."
We guess that's true. At least if 50 year-olds are known for spouting Hallmark card-like cliches about love and life.
In closing, Dolly seems to at least acknowledge that Miley's new CD has been a bust on the charts, but the singing legend takes a grander, positive view of her young pal:
"She'll land in the right place. I really know she has everything it takes. She is just trying to find her way and she will."
Those words sound eerily similar to what some people said about Britney Spears and Lindsay Lohan back in the day. Let's hope Miley's path ends in a different location from that of those two trainwrecks.