thehollywoodgossip -
A recent tabloid cover story stated that Kourtney Kardashian is pregnant again and shady baby daddy Scott Disick reacted to the news by hitting on a woman in front of her.
Not exctly his most dastardly deed.
Still, Kourtney felt the need to make more headlines for herself from this report and responded to it on her blog yesterday. She wrote:
"Gotta give it to the trash mags this week for some pretty creative Kardashian stories. One of my favorites is that Scott was flirting with a sexy blonde aka Joyce, my most gorgeous and fabulous friend and makeup artist. Lol."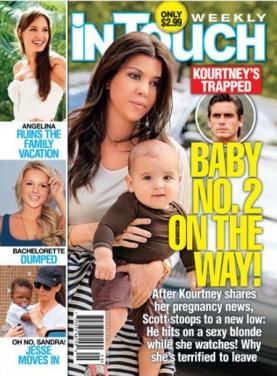 Kourtney also felt the need to defend another random aspect of the article:
"The story went on about how Scott was downing sangria, a drink I'm pretty sure he has never had before. In fact there wasn't even any sangria at the table. Not to mention, he wasn't drinking alcohol period."
Okay, Kourtney, we got it: Scott wasn't flirting and he wasn't drinking. Thank goodness you cleared those rumors up.
Care to respond to the pregnancy claim now???