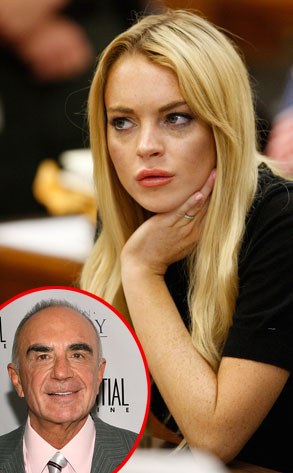 David McNew/Getty Images; Jesse Grant/Getty Images
So much for
Lindsay Lohan
's legal Dream Team.
On the eve of her surrender, the jail-bound starlet's incoming attorney, former
O.J. Simpson
defender
Robert Shapiro
, stepped down following a private meeting with the judge who's been presiding over Lohan's case, reports the
Los Angeles Times
.
Shapiro publicly acknowledged just days ago that he was representing the troubled actress on the condition that she comply "with all of the terms of her probation, including a requirement of jail time."
She's due to turn herself in this morning, so what went wrong?!
Last week, she checked into Pickford Lofts, which was started by Shapiro after he lost his son, Brent, to a drug overdose in 2005. Shapiro was spotted heading into the building Thursday, as was Lohan's assistant.
Though ostensibly a positive step, it may have been Lohan's brief stay at the Los Angeles residence that made things worse. A source tells E! News that Shapiro was not happy with her behavior there.
"She was unruly," the source says. "She was having people over at all hours of the night. She acted like she ran the place."
The actress was apparently out of the facility by Monday. Her assistant was spotted there late in the evening, removing some of the star's personal belongings, but there was no sign of Lohan aside from a smart-alecky Twitter posting.
"The only 'bookings' that i'm familiar with are Disney Films, never thought that i'd be "booking" into Jail... eeeks," the onetime Parent Trap star tweeted Monday.
According to various reports, Lohan had a tough weekend, nibbling on her nails and chain-smoking as she dreaded being locked up Tuesday—even though she'll probably only end up serving less than a quarter of her sentence.
As of Monday, the L.A. District Attorney's Office had no advance knowledge of an attempt on Lohan's part to appeal her sentence, though a source close to her had told E! News that Lindsay wanted to spend her 90 days in a locked-down rehab facility, rather than jail (after which, she'll have to go to court-ordered rehab anyway).
Lohan's expected at the Beverly Hills Courthouse at 8:30 a.m., after which she's due to be transported to the Century Regional Detention Facility in Lynwood.
It's unclear now who will be representing Lohan in court. Calls to Shapiro and the attorney he was supposed to be replacing,
Shawn Chapman Holley
, have not yet been returned. Holley never signed the paperwork that would have officially removed herself as Lohan's counsel.
—Additional reporting by Claudia Rosenbaum