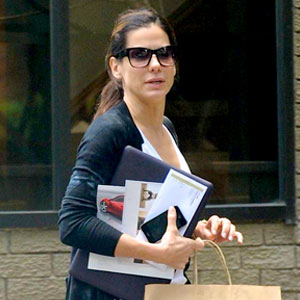 NATIONAL PHOTO GROUP
Here's one familiar face
Sandra Bullock
isn't anxious to see.
The Oscar winner obtained a temporary restraining order Monday to shore up her defenses against a guy she alleges has been stalking her off and on since 2003.
Thomas James Weldon was permanently ordered to stay away from her in 2003 after repeated attempts to send her messages and gifts and Bullock was granted an extension in 2006, but it expired last year.
And according to the
Blind Side
star, the 41-year-old Weldon is back to his old tricks.
Per her filing in Los Angeles Superior Court, an unmedicated Weldon showed up in a Wyoming emergency room last month complaining of anxiety and exhaustion and told the staff he'd spent all night driving from Tennessee to get to Bullock's home in Jackson Hole.
This time around, Bullock's adopted son,
Louis
, is listed as a person who requires protection from Weldon, in addition to the actress, her nanny, housekeeper and assistant.
View the request.
Labeled an "unmedicated schizophrenic" by Bullock's attorney, Weldon voluntarily checked into a Tennessee psychiatric facility in 2003. The actress' production company sued the state's Department of Mental Health three years later to ensure that she was notified when Wheldon was discharged.
A hearing on her latest request is scheduled for Aug. 6. (eonline.com)